Bruce McLean | An Exhibition of Original Prints and Ceramics
One of the most dynamic, exciting and innovative artists working in Britain today, Bruce McLean has spent more than fifty years redefining the boundaries of sculpture, painting and performance. The Paragon Gallery is delighted to announce the arrival of a stunning overview of his ceramics and graphic work that will be on display from 4th – 18th October 2019.
McLean's work challenges the formal aesthetics and hierarchies of traditional media, using parody, biting wit and a pronounced sense of play to confuse established ideas of what art can be and how the audience should respond to it. He describes himself as an "action sculptor" and infuses his work with a self-professed love and aptitude for dance. The sculptural properties of gesture and movement are pivotal; "I don't think of what I do as art," he says. "I think of it as sculpture. Even if it's a painting, it's a painting I made as a sculptor".
Born in 1944 in Glasgow, McLean studied at the Glasgow School of Art and then under Sir Anthony Caro and Phillip King at St. Martin's School of Art in London. He was encouraged to question and be sceptical of the nature of sculpture, and responded by creating work out of rubbish, water and other impermanent materials. He also used his own body to create action sculptures and impersonate those of other artists.
The subject of an audacious one-day retrospective at the Tate gallery at the age of 27, he continues to exhibit widely throughout the world. His work is held in the permanent collections of the Tate, the Rijksmuseum in Amsterdam, the Museum of Modern Art in New York, and the National Gallery of Modern Art in Edinburgh, among others.
Private view Thursday 3rd October 6-8pm
Exhibition Friday 4th October - Friday 18th October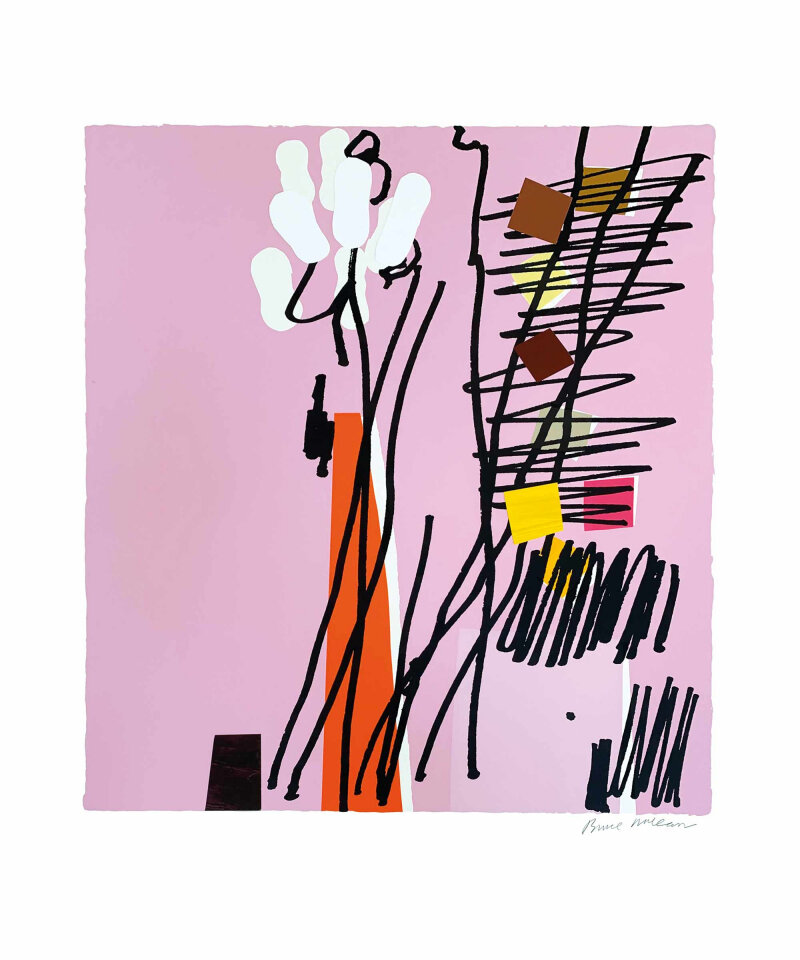 Hot Spring Path
Signed Limited Edition Silkscreen with Collage on Paper
Edition of 75
Image size: 81.3 x 92cm
£1,200 unframed
Check availability
Or £120 per month on Own Art payable in 10 equal interest-free monthly instalments
Fresh White Spring
Signed Limited Edition Silkscreen with Collage on Paper
Edition of 75
Image size: 81.3 x 92cm
£1,200 unframed
Check availability
Or £120 per month on Own Art payable in 10 equal interest-free monthly instalments
Dark Grey Garden San Carigol
Signed Limited Edition Silkscreen Print
Edition of 75
Image size: 105 x 116cm
£1,275 unframed
Or £127.50 per month using Own Art payable in 10 equal interest-free monthly instalments
Green Garden with Unknown Flower
Signed Limited Edition Silkscreen Print
Edition of 75
Image size: 105 x 116cm
£1,275 unframed
Or £127.50 per month using Own Art payable in 10 equal interest-free monthly instalments
Light Blue Garden Seat with Violet Stalks
Signed Limited Edition Silkscreen Print
Edition of 75
Image size: 105 x 116cm
£1,275 unframed
Or £127.50 per month using Own Art payable in 10 equal interest-free monthly instalments
Red Garden Path
Signed Limited Edition Silkscreen with Hand-Painted Embellishments
Edition of 75
Image size: 82 x 92cm
£1,200 Unframed
Or £120 per month using Own Art payable in 10 equal interest-free monthly instalments
Lindheimer's Beeblossom
Signed Limited Edition Silkscreen with Hand-Painted Embellishments
Edition of 75
Image size: 82 x 92cm
£1,200 Unframed
Or £120 per month using Own Art payable in 10 equal interest-free monthly instalments
Turquoise Hosepipe Ban
Signed Limited Edition Silkscreen with Hand-Painted Embellishments
Edition of 75
Image size: 82 x 92cm
£1,200 Unframed
Or £120 per month using Own Art payable in 10 equal interest-free monthly instalments
Shadow Series - Tree Fern Shadow Yellow
Signed Limited Edition Hand-cut and Painted Collaged Silkscreen
Edition of 75
Image size: 74 x 73cm
£800 unframed
Or £80 per month using Own Art payable in 10 equal interest-free monthly instalments
Shadow Series - Grey Grow Green
Signed Limited Edition Hand-cut and Painted Collaged Silkscreen
Edition of 75
Image size: 74 x 73cm
£800 unframed
Or £80 per month using Own Art payable in 10 equal interest-free monthly instalments
Shadow Series - Green Grey Violet Shadow
Signed Limited Edition Hand-cut and Painted Collaged Silkscreen
Edition of 75
Image size: 74 x 73cm
£800 unframed
Or £80 per month using Own Art payable in 10 equal interest-free monthly instalments
Shadow Series - Blue Grey Blind
Signed Limited Edition Hand-cut and Painted Collaged Silkscreen
Edition of 75
Image size: 74 x 73cm
£800 unframed
Or £80 per month using Own Art payable in 10 equal interest-free monthly instalments
Healing Garden
Signed Limited Edition Silkscreen Print with Collage
Created to raise funds for the British Heart Foundation, all profits go to the BHF
Edition of 150
Image size: 58.5 x 75cm
£1100 unframed
Or £110 per month using Own Art payable in 10 equal interest free monthly instalments
Agave Americana
Signed Limited Edition Silkscreen Print with Collage
Edition of 100
Image size: 76 x 79cm
£1,500 unframed
Or £150 per month using Own Art payable in 10 equal interest free monthly instalments
Black Mimosa
Signed Limited Edition Silkscreen Print with Collage
Edition of 100
Image size: 76 x 79cm
£1,500 unframed
Or £150 per month using Own Art payable in 10 equal interest free monthly instalments
Shades of Grey - Light Blue
Signed Original Mono Print (Silkscreen and Collage)
Edition of 75
Image size: 80 x 92cm
Framed size: 102 x 117cm
£1,350 unframed

Or £135 per month on Own Art payable in 10 equal interest-free monthly instalments
Shades of Grey - Cerulean Blue
Signed Original Mono Print (Silkscreen and Collage)
Edition of 75
Image size: 80 x 92cm
Framed size: 102 x 117cm
£1,350 unframed

Or £135 per month on Own Art payable in 10 equal interest-free monthly instalments
Another Bad Night Out on Sausage Street
Signed Limited Edition Silkscreen Print
Edition of 250
Image size: 60 x 78.5cm
£1,200 unframed
Or £120 per month using Own Art payable in 10 equal interest free monthly instalments
Room for a Mean Martini
Signed Limited Edition Silkscreen Print
Edition of 75
Image size: 60 x 56.5cm
£650 unframed
Or £65 per month using Own Art payable in 10 equal interest-free monthly instalments
Room for a Smoke
Signed Limited Edition Silkscreen Print
Edition of 75
Image size: 60 x 56.5cm
£650 unframed
Or £65 per month using Own Art payable in 10 equal interest-free monthly instalments
Pink Cava Lily
Signed Limited Edition Silkscreen with Collage and Glazes
Edition of 100
Image size: 74.5 x 71cm
£850 unframed
Or £85 per month using Own Art payable in 10 equal interest free monthly instalments
Tulbagia
Signed Limited Edition Silkscreen Print with Collage and Hand-painting
Edition of 75
Image size: 97 x 114.5cm
£1940 unframed
Or £194 per month using Own Art payable in 10 equal interest-free monthly instalments
Scone in a White Interior
Signed Limited Edition Silkscreen Print
Edition of 50
Image size: 59 x 65cm
£485 unframed
Or £48.50 per month using Own Art payable in 10 equal interest free monthly instalments
Tree Fern Shadow Mono 6
Signed Limited Edition Mono-print with Collage and Hand-painting
Edition of 20
Image size: 119.5 x 121.5cm
£3500 unframed
Or £350 per month using Own Art payable in 10 equal interest-free monthly instalments
Dream Gardens No. 8
Signed Limited Edition Mono-print with Collage and Hand-painting
Edition of 25
Image size: 91 x 110cm
£3500 unframed
Or £350 per month using Own Art payable in 10 equal interest-free monthly instalments
Raging Red Garden
Original on Board
Image size: TBC
£POA
Pink Spring
Original on Board
Image size: TBC
£POA